My Interview With Mina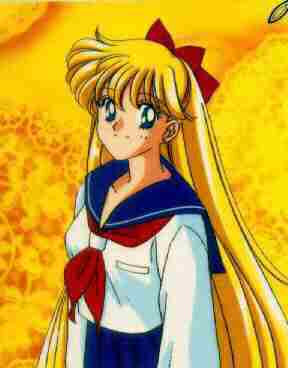 Su Faye hears someone panting and light footsteps around the corner. Soon Mina jogs into sight, her blonde hair bouncing up and down.
Mina>Sorry did I keep you waiting?
Su Faye>No not really. Did you just come from a volleyball game?
Mina>Yeah, it was in Jells Park, so I had to run here, because I couldn't get a ride.
Su Faye>You should have told me.
Mina>No, its alright, I like running any way. And I was in a good mood because we won the volleyball game, 22-15.
Su Faye>What's your volleyball team called again?
Mina>The Strikers. Pretty dumb name but we are a pretty good team and that's all that matters.
Su Faye> So hows it feel like to be the first Sailor Scout?
Mina>Well, probably just the same to be the 2nd or 3rd. Its nothing really. And also although I was before the other scouts, I didn't come into SailorMoon until ages, the last of the inner scouts in fact.
Su Faye>Was it easier fighting in England by yourself or Tokyo with the scouts?
Mina>I guess, here in Tokyo. The enemies are harder here but I have everyone else to back me up and it's fun to be part of the team.
Su Faye>Why do you always do a lot of your attacks with Jupiter?
Mina>It makes us stronger, I think and why not?
Su Faye>Its just that normally other Scouts do their attacks by themselves. Do you like being second-in-command in the Sailor Scouts?
Mina>Umm.....I don't do that much really, just tell the other Scouts to transform, but yeah its cool. I just take over if Serena isn't there or has gone a little wacko.
Su Faye>You're my friend, Amy's (not Sailor Mercury-Amy Anderson) favourite scout. I just wanted to tell you that.
Mina>Tell her thanks. I always welcome fans, after all one of my dreams is becoming an idol (giggles). What about you?
Su Faye>Sorry but I like Mars the best.
Mina>No problem, after all we're all allowed to our own opinion.
Su Faye>But I do think that you are the nicest Sailor Scout. After all you are always trying to keep the peace in the Sailor Scouts and you are never mean.
Mina>Thanks. Some people just think I'm a suck up.
Su Faye>Well, I don't. Who's your latest crush?
Mina>This really cute guy that works at the ice cream parlor. He has light brown hair and is gorgeous.
Su Faye>(smiles) What are the other scouts doing at the moment?
Mina>Serena is down at the temple reading Rei's comics, Rei's probably yelling at Serena that she's lazy and Lita is shopping with Amy.
Su Faye>Do you like being known as Serena's twin sometimes?
Mina>I don't know. Is that a compliment? (laughs) Well we only really look a like when we both have our hair down and I normally put mine up with a bow and she normally has those two balls on top of her head.
Su Faye>Well some people say your personality is a little like Serena's.
Mina>You think I'm like Serena, lazy and a crybaby sometimes? Please say no or I'll die.
Su Faye>No not really but you have to admit you are very alike in some ways.
Mina>And thank goodness only SOME ways. (smiles).
Su Faye>Well, thanks for the interview, I really appreciate it. Do you need a ride home?
Mina>No I'll be fine! See ya around!
Su Faye>Bye
Mina jogs around the corner and Su Faye turns off the tape recorder.